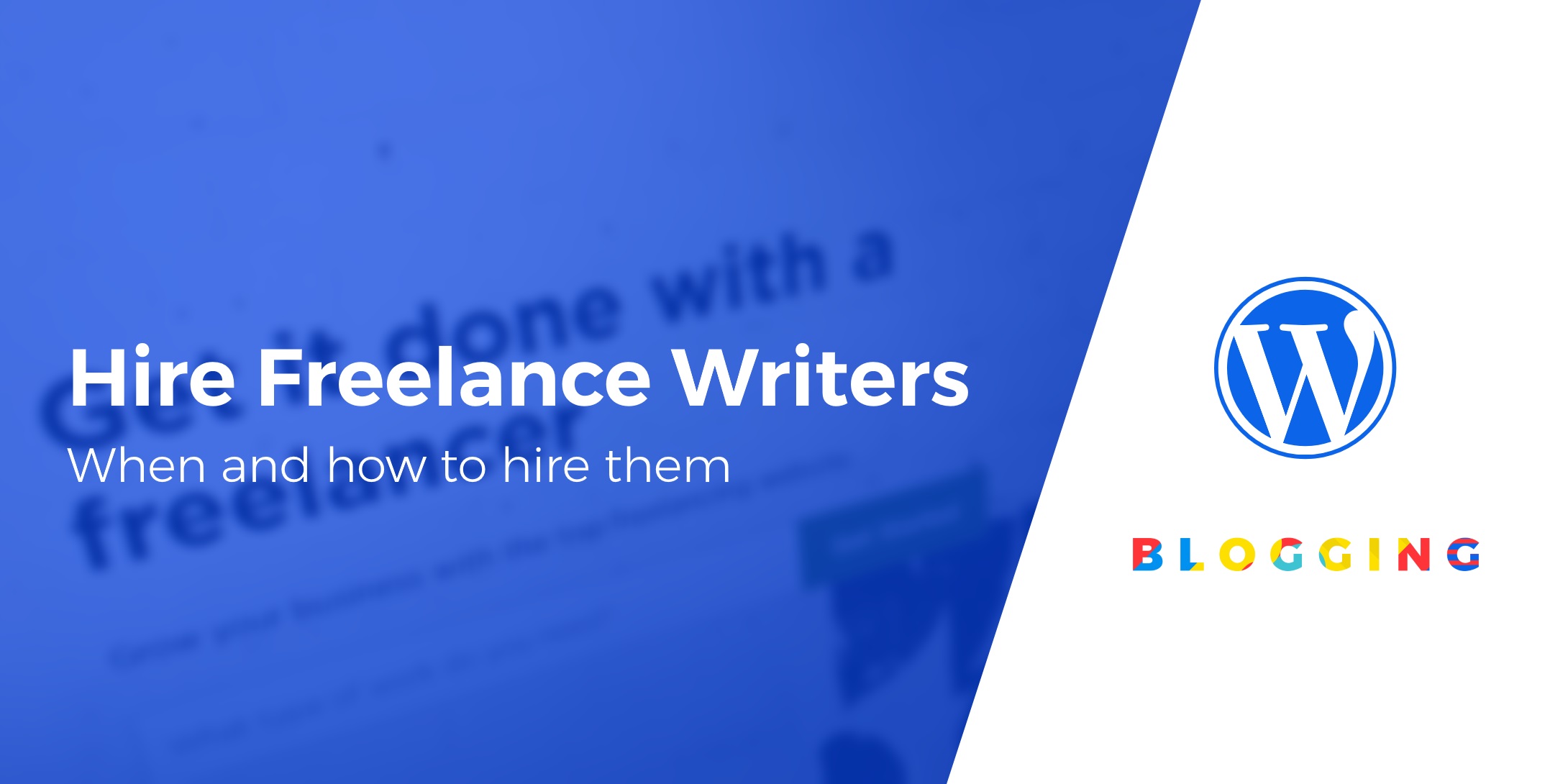 The Top 8 Websites You Can Use to Hire Exceptional Freelance Writers
There are dozens of reasons why content creation is essential to any marketing plan, but creating that content can be difficult. That's why more and more companies hire freelance SEO copywriters. Not only does good content increase visibility by ranking your site higher in search engines, it also helps build authority.
Whether your content needs include drafting whitepapers, creating press releases, or perfecting landing pages, having a professional writer on board can make all the difference when it comes to quality.
Finding a professional writer is easier than ever thanks to content creation services and job boards. These tools help connect companies with expert writers that can create the content any business needs to be successful. We've put together a list of resources you can use when it's time to hire freelance writers.
Best Resources For Hiring Freelance Writers
1. Upwork
Upwork is by and large the most widely recognized freelance job board. Upwork is the result of a merger between Odesk and Elance and features an extensive database of expert writers. It's a freelancer marketplace where you can find both beginners and advanced writers for a wide range of topics from e-commerce and digital marketing to email marketing templates and tech topics. You can use filters to narrow down the candidates and find the ones that fit your niche and business needs.
You can search for writers based on their experience and how much they charge—including their fixed price and hourly rates. You can also search for writers that speak a particular native language or those that have expertise in a specific country. You can post full-time jobs as well as freelancing gigs for quick projects like editing revisions and mini writer jobs.
While Upwork's size makes it a great candidate for finding freelancers, it can be difficult to find the best writers in the huge log of users. Many of the writers and bloggers on the platform are located in foreign countries and don't always have the best writing skills. To successfully find a freelance writer on Upwork, you'll need time and patience to filter and sift through thousands of results. Make sure to check for any testimonials and client recommendations if the writer has worked on the platform before.
The site has a wide range of options for blogging, content writing, copywriting, and technical writing services. You'll find everything from full-time writers to part-time freelancers that can create product descriptions. It's similar to Fiverr in that potential applicants can bid for your role.
How It Works:
You need to create a profile in order to publish a job ad on this freelance writing job board. Posting freelance writing job ads is completely free. Upwork makes its money by taking a cut of 10 percent from the freelancer's total earnings. You'll receive notifications when you receive a new applicant and can set up interviews and follow-ups directly on the site.
2. Guru
Guru is similar to Upwork in that it is a large online job board featuring writing projects and jobs. To date, Guru boasts more than 1.5 million active users from all over the world. What sets Guru apart from Upwork is that they also feature a built-in project management tool. You can create onboarding documents right on the website. You can even use Guru to manage your content marketing process by sharing documents and creating tasks.
Guru and Upwork are both great choices for small business owners that may have tighter budgets. Since it's free to post job ads, it's easy to get the attention of qualified candidates without having to shell out big bucks. Again, you'll need to be patient and use filters to narrow down the candidates from a large pool.
How It Works:
Like Upwork, Guru takes a percentage of freelancer's profits and features free job postings for businesses. The fee depends on the type of membership the freelancer chooses and can range from five to ten percent for each project.
3. Craigslist
If you're looking for something and exceptional quality isn't your top priority, you can probably find it on Craigslist. Craigslist features a job listing section where you can search for qualified writers. This tool is best suited for businesses that are looking for freelance writers in the local community. If you're looking for a writer that can work remotely and come into the office a few times a week or month, then Craigslist is your best bet to finding that freelance writer.
The quality of writers on Craigslist won't be as high as those on Upwork or Guru. You need to make sure you have a strong vetting procedure in place to weed out the writers that just aren't a good fit. You also don't have any team support from Craigslist if there is a payment dispute or if other issues arise. If you're looking for help writing articles, make sure to choose applicants that have proven success in their writing career and can show solid samples of the type of content you're looking to create. Again, it'll be harder to find a stellar technical writer on Craigslist, but you can certainly find qualified candidates for more general topics including creative writing.
How It Works:
It's free to create a job listing and writing job opportunities on Craigslist and you don't even need to sign up for an account. Simply select your region and click on "create a posting". Fill out the details and freelancers in your community will see your job posting immediately.
Deciding between a full-time vs freelance writer
When you have consistent, ongoing writing needs in your marketing department or other departments, hiring a full-time writer is an option. A staff writer can start a new writing project immediately, and that person understands your company's branding and goals to make the writing effective. You also get a consistent voice since it's the same person creating all the writing.
If you only occasionally need writing projects completed, a freelance writer gives you more flexibility. You can assign specific projects on an as-needed basis without the expense of hiring a full-time writer. Freelance writers can also help your in-house writing team during a big project when you temporarily need extra assistance. You can also hire a freelance writer with experience in a particular type of writing if you only need that expertise for a short-term project.
What are the types of writers?
Businesses use different types of writing depending on the purpose of the content. Writers often specialize in those different types of writing. Here are some types of writers to consider:
Technical writer: A technical writer produces manuals and instructional content that takes complex or technical information and makes it easy for the average person to understand.
Copywriter: Copywriters create written material that helps market the company. This might include sales pages, case studies, buyer guides, email sequences and other promotional materials.
Content writer: This type of writer produces content for use online, such as your website or blog posts. This content helps engage potential customers and get more traffic to your website.
Social media writer: Other writers create content specifically for social media channels. This requires specific knowledge of each platform, since each is slightly different in the type of content and what performs well.
Journalist: This traditional writing type focuses on fact-based writing to cover events or topics. Journalists write for newspapers, journals and magazines, for both print and online versions.
Source:
https://www.thewriterfinder.com/post/hire-freelance-writers
https://www.indeed.com/hire/how-to-hire/writer
https://themeisle.com/blog/how-to-hire-freelance-writers/
How to Hire a Writer
How to Hire a Writer
Does your growing business need a writer? From creating marketing collateral to developing internal training materials, a copywriter can produce all the written content your business needs to succeed. While there are numerous qualified writers on Indeed who can help your company, it's important to find a writer who can work well with your company and effectively express your company's voice.
Whether hiring for full time or on a freelance basis, hiring a writer can affect your existing staff and your bottom line. However, know that a writer can help your overall business by:
• Creating and refining the voice of your company or brand by developing messaging for your marketing department
• Developing detailed and intelligent written resources, manuals and instructions for your customer base
• Maintaining technical proficiency in your brand messaging
What We Look For in a Writer
Dependability
As a business owner, the last thing you need to worry about is someone not coming through on a job you have asked them to do. You should rest assured that the freelance writer you have hired will submit projects and assignments by the deadline you have set. Look to hire a freelance writer with dependability so that you don't have to worry about whether a job will be completed or not.
Hiring a freelance writer who writes to fit the tone of your website or blog is an important feature because it will give readers a uniform experience no matter what area of your website they are on. It is important to hire a freelance writer who can mimic any tone that you want your post to have.
Communicative
Life happens, and sometimes deadlines can't be met. Hire a freelance writer who has a good reputation with communication. A freelance writer with a good reputation will immediately let you know if they cannot complete an assignment by the deadline. A freelance writer with good communication skills means you should likely never be caught off-guard, wondering why an assignment or project has not been completed.
Enthusiasm
You should look for a freelance writer who has positive energy, passion, and enthusiasm. These qualities are likely to land you a freelance writer who will be eager to take on any writing assignment you throw their way. In addition, a freelance writer with a positive attitude and energy is more likely to take on any project you might throw at them.
Expertise
Depending on the type of website you manage may determine if you need a writer with expertise in a specific subject matter. For this reason, you should consider hiring a freelance writer with vast knowledge and experience on the specific subject in which they will be writing. This will save you time having to explain the details of the subject matter that you will need them to write about, as they will already have knowledge of the subject matter.
Experience
Hiring a writer who has experience is similar to hiring a writer who has expertise. Like expertise, hiring an experienced writer means you will spend less time explaining each detail of the writing assignment. Additionally, hiring an experienced writer means less time that you should have to spend editing and revising any assignment they submit to you. Anything that saves you time, money and energy is worth the investment.
An experienced writer is also less likely to ask follow-up questions about the assignment that is given. If the experienced writer has not written about the specific subject matter, they likely have written about the style in which the topic is being formatted. This includes search engine optimization, heading formats, and research abilities. A professional writer who possesses these qualities is guaranteed to produce quality written content that should require little to no revisions, saving you time and money in the long run.
Talent
Not everyone is equipped to be a writer. A talented writer typically has passion, excitement, and the ability to capture a reader's interest by creating engaging content. Good grammar helps, too. Hiring a creative writer who will think outside of the box will help your content stand apart from the rest and keep your readers coming back for more.
Choose a Content Writer That Matches Your Needs
It's essential for your business to communicate openly and honestly with every single candidate. The best writers will usually stand firm on their policies and rates, so ask them questions. You do not want to assume anything, and you need to give them as much information as possible about yourself and the business as well.
Find a writer that suits your specific needs. Ask yourself what your goals are as a marketer and business before you bring anyone new on board. If you want to offer more customer support via your blog, find a writer who excels at turnaround times and engaging tutorials. To offer special promotional content, find someone with successful graphic marketing experience.
Your main concern should be if you and the writer are on the same page. Find out if they are willing to take criticism if they can work as a team creatively, and if they have their own database of ideas and inspiration.
Be sure you are clear in your demands and that you understand the writer's as well. And use this 7-step guide as your constant source of support. Business and life get busy, and they get messy, but where there is a will, there is always a way. Don't hesitate. Start searching for your website content writer today and breathe some new life into your business!
Resource:
https://www.indeed.com/hire/how-to-hire/writer
https://www.contentrefined.com/how-to-hire-a-writer/
https://www.dreamgrow.com/choosing-content-writer/